Gregorian Calendar New Year Prayer, Humility, Gratitude & Love
---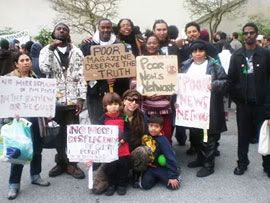 Dearest/Estimada Familia/Family-
As we walk, decolonized and with respect and humility in the Mayan Baq'tum (New Year) and approach the Gregorian calendar New Year of 2013, our family of poverty, migrante, indigenous, race, youth and elder skolaz @ POOR Magazine want to send out medicine and a prayer to all of our revolutionary, conscious and thinking family of subscribers, readers and donors for all of your hard work reparatin', communicatin, medicine-carrying, teaching, mentoring, decolonizing,dream-manifesting, organizing, activating, art-creatin' and making tru change all across Pachamama.
Deep prayers of gratitude to Creator, God/Godesses,Great Spirit, Ancestors, Pachamama/Madre Tierra/Mother Earth, and all of you and in whatever traditions/spirits you follow.
From the smallest to the largest acts of change-making, conscious journey-taking, teaching, mentoring, care-giving, media-making, art-creating, ancestor-honoring and walk-talking you are all appreciated and without which we would not be as safe, as loved, as inspired or even here.
From the smallest to the largest act of revolutionary donating of blud-stained (and then saged and cleansed) dollaz that each of you were able to navigate and still continue to do- ALL love and respect. It is not easy work deconstructing the complex web of lies and pseudo-facts, logic, dreams, hopes and pain involved in all monetary issues in a US severely unjust ekkkonomy built on a genocidal system of destruction and oppression of the softest-journey walking peoples among us. Without all you Homefulness would not be possible.
As all of you now there is Sooo much power-FUL work to be done in this year and beyond to decolonize all of our brothers and sisters from the herstories of genocide, colonization, poverty, war, racism, incarceration, earth-scorching, and ALL of these plantation systems we all continue to suffer under. But please know, like our spiritual elders tell us, we all hold the medicine within us to walk that walk, bring that love and make those changes with respect, humility, love and in a Good Way for this Baq'tum, gregorian New Year 2013 and far beyond
Ase-O, Ometeotl, A-hooooo, Blessings and Love
Your Prensa POBRE/ POOR Magazine familia
PS-If you haven't alredy donated but would like to support the Homefulness equity campaign please do so online at Indiegogo, or by mail and indicate you want to support the Equity Campaign. If you are already a one-time Revolutionary Donor please consider becoming a monthly Community Support member by clicking here to support POOR Magazine's poor people-led, indigenous people-led media, art and education projects for as little as $10, 20, 50 or $100 per month....Or if you are able to give more, please do. Our snail mail address is 2940 16th street #301, San Francisco, CA 94103.